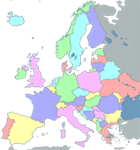 AP European History
AP European History focuses on developing students' abilities to think conceptually about European history from approximately 1450 to the present and apply historical thinking skills as they learn about the past.


PERIODS:
Time Periods
Welcome to AP European History, a course that examines the period 1450 to the present. Throughout the course, you will learn Europe's political and diplomatic history, experience its art and culture, and witness the vast changes in the social lives of its people. In the end, you will understand the background you will need to analyze the ongoing problems and successes of the modern world.
The course is divided into four distinct time periods:
Period 1 1450-1648 (the "beginning of the Renaissance" to the end of the Thirty Years' War)
Period 2 1648-1815 (the Peace of Westphalia to the fall of Napoleon)
Period 3 1815-1914 (the Congress of Vienna to the outbreak of World War I)
Period 4 1914-2006 (World War I to "the present")
Historical Thinking Skills
The AP history courses seek to apprentice students to the practice of history by explicitly stressing the development of historical thinking skills while learning historical content. Students best develop historical thinking skills by investigating the past in ways that reflect the discipline of history, most particularly through the exploration and interpretation of a rich array of primary sources and secondary texts and through the regular development of historical argumentation in writing
Analyzing Historical Evidence (Primary and Secondary Sources)
Argument Development
Contextualization
Comparison
Causation
Continuity and Change Over Time
Historical Themes
History isn't about memorizing names and dates, although these basic facts give us a framework for understanding the subject. There are a number of themes that occur and re-occur throughout the past. Tracing these themes over the course of the year will help you understand long-term changes in European history. We will focus on six themes this year.
Interaction of Europe and the World (INT)
Poverty and Prosperity (PP)
Objective Knowledge and Subjective Visions (OS)
States and Other Institutions of Power (SP)
Individual and Society (IS)
National and European Identity (NI) - new for 2017-2018
Concept Outline
The concept outline details key concepts that colleges and universities typically expect students to understand in order to qualify for college credit and/or placement. Specific details - names, dates, and places - will not be explicitly tested but will need to be used to illustrate points in short-answer questions (SAQs), long essay questions (LEQs), and document-based questions (DBQs).